Fun4Two Program of this Week!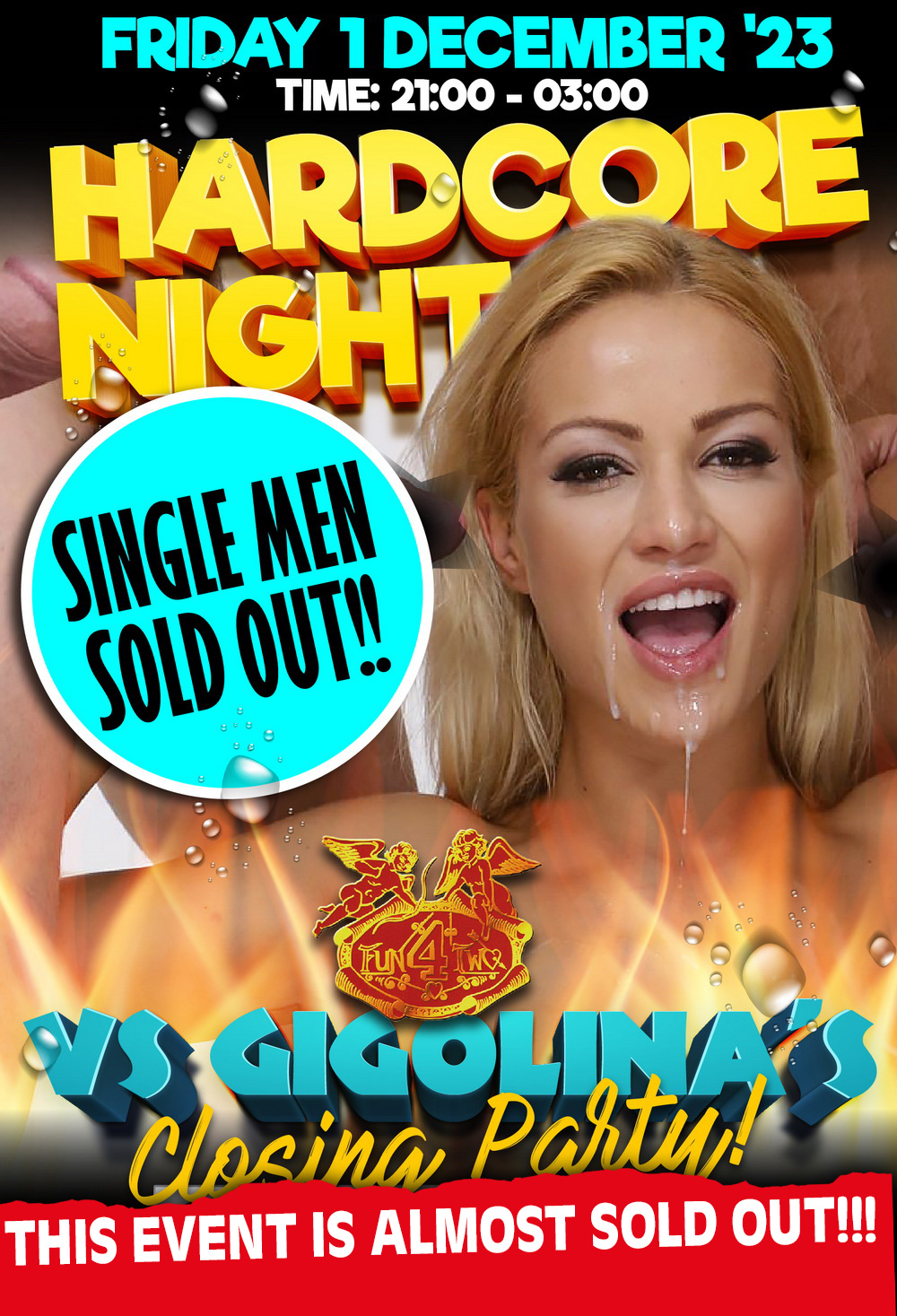 THE WEEKEND OF 01, 02 & 03 DECEMBER'23
Dish of the Chef, a CARIBBEAN menu!
This first Friday of the month is... Hardcore Night vs Gigolina's!

FRIDAY DECEMBER 01 '23 | 21:00 - 03:00
Access for Couples, Single Men, Single Ladies & Girlfriends.

HARDCORE NIGHT VS GIGOLINA'S is the most talked about and most sought after sex party in the Netherlands.
It is organized by Fun4Two 4 or 5 times a year . HARDCORE NIGHT vs GIGOLINA'S START 11:00 PM
In connection with the Holidays, we organize this theme in December, on the first Friday of the month. All other themes will therefore be postponed by a week!

HARDCORE NIGHT VS GIGOLINA'S CLOSING PARTY so the last of 2023
is not a suitable evening for couples who do not want only men to be present.
We advise you to visit one of our other theme evenings.
This evening gives access to Single Men, Single Ladies and active Couples.
Just like on our Gigolo Night, there will now be female GIGOLOS present on these evenings. These have registered and reserved with Fun4Two.
If desired, the GIGOLINAS mentioned by us are available to everyone who will visit this evening. This of course with RESPECT!
Even though the ladies want to be treated nicely, they naturally want to be treated with respect.
This of course also applies to the other guests, everyone wants the same thing, so treat each other respectfully.
THE DRESS CODE IS IMMEDIATELY FROM ENTRY!

The dress code is beautiful lingerie for the ladies.
For men, wear nice boxers with a T-shirt and we recommend wearing slippers on your feet.

• Towels, swimwear, casual clothing such as lingerie are not permitted.
New dates 2024 will be announced on Monday January 15!

Due to great success, we have extended our strip card promotion until December 31, 2025? So you too can go to the Fun for free!! View the promotion conditions here.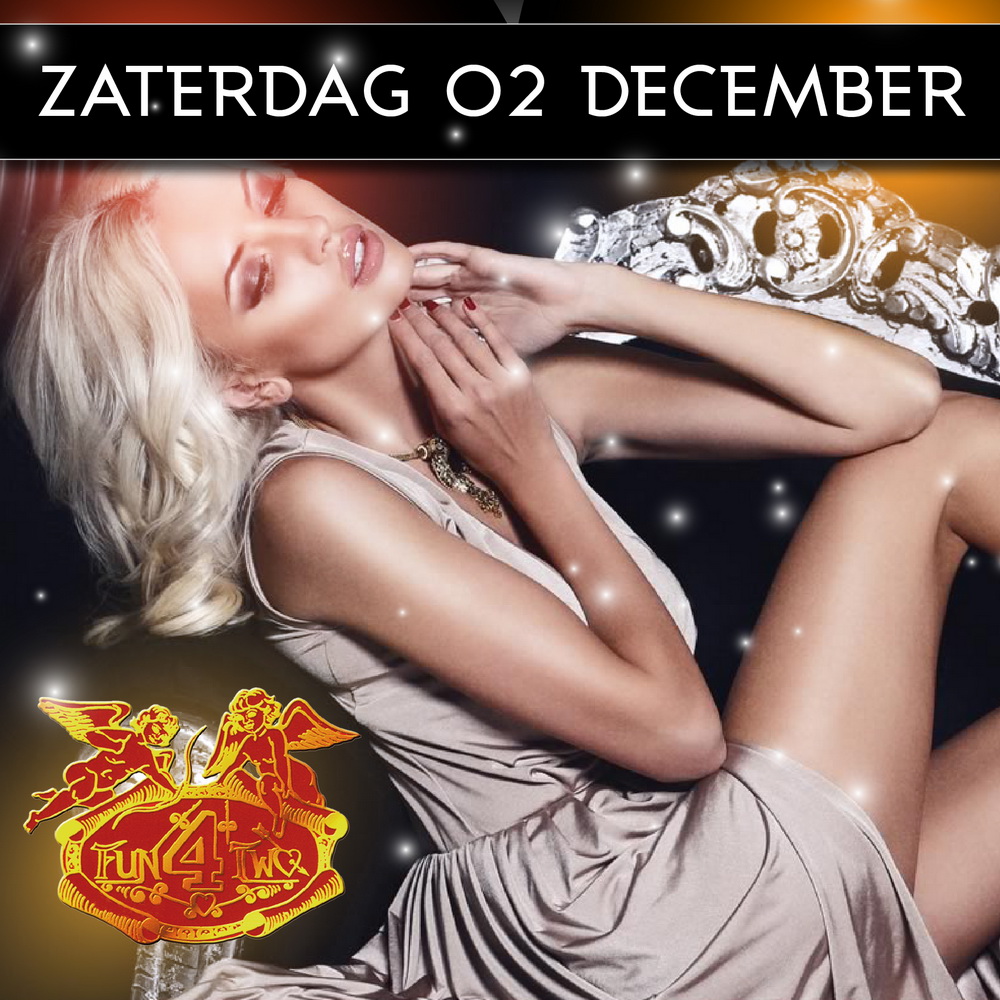 Saturday DECEMBER 02 '23| 21:00 - 04:00
Access for Couples, Single Ladies & Girlfriends.

An ordinary Saturday in the Fun in short:
1) Bomb full.
2) Nice and beautiful people from all countries.
3) Quick contact with other nice couples.
4) Delicious & drinks.
5) Teasing & pleasing.
6) 100% sex.
7) The very best music.
8) A TOP evening guaranteed.
9) Relaxing in the beautiful wellness.
And now we'll stop for a moment.... See you Saturday!!!
Oh yes.... reservations? Seems very sensible to us!!!
Want to go to the nicest Swingers club in the Netherlands for free ? Yes....only at Fun4Two! View the promotion conditions here.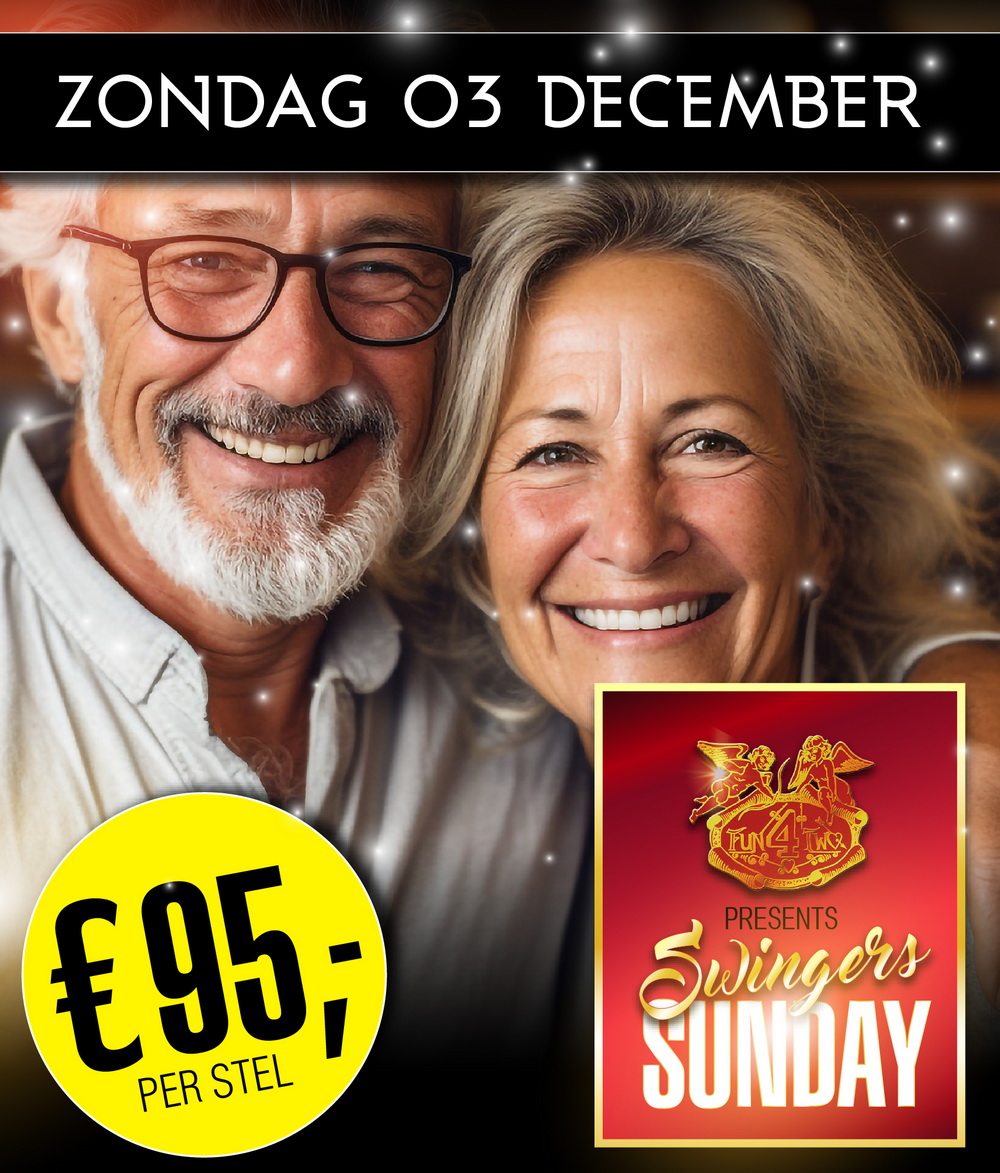 SUNDAY DECEMBER 03 '23 SWINGERS SUNDAY | 16:00 - 23:00
Access for Couples, Single Ladies & Girlfriends.

SWINGERS SUNDAY WITH - The best Sunday in the country!
More and more people are discovering the best nightlife in the Netherlands! Great night out for couples aged 30 - 75
Where in the Netherlands can you still have an unprecedentedly fun night out on Sundays? No, we are not talking about the price anymore, it is already listed large. Indeed, All-Inclusive!!! Of course in the nicest, most beautiful and pleasant Swingers club in the Netherlands Fun4Two. For our new members, a discount of €20 immediately upon arrival
It's just a fact that you won't have such a good time anywhere on a Sunday in the Netherlands. And for a bargain price too.
01) Fixed entrance fee of € 95 per couple All-inclusive.
02) No registration fee of 20 euros for new members.
03) A fun swingers evening for like-minded people.
04) Lingerie dress code at 7:00 PM.
05) Enjoy teasing & pleasing
06) Unlimited food in our Top restaurant.
07) All drinks on the house.
08) Top music from our DJ .
09) Enjoy our beautiful wellness such as Sauna - Turkish steam bath - Whirlpool Tantra Temple and much more...
10) Every second and last Sunday of the month, LIVE music with a fantastic performance.
11) On the last Sunday afternoon/evening of the month you can also enjoy our house singer Desiree, which certainly makes for a nice busy club.
12) Just everything, for a whole evening (7 hours of Fun) 4:00 PM - 11:00 PM. Oh yes... You read that right... per couple!! *

*Note! Strippenkaarts are not valid on public holidays, exclusive theme parties & pool parties.
Want to save for a free entrance of your choice? That also makes the Fun possible for you.... Ask for a saving card! View the promotion conditions here.