PAY ATTENTION!!! Because December is a festive month and has 5 Fridays, all themes move up a week!
Fun4Two Weekend Program Wk 49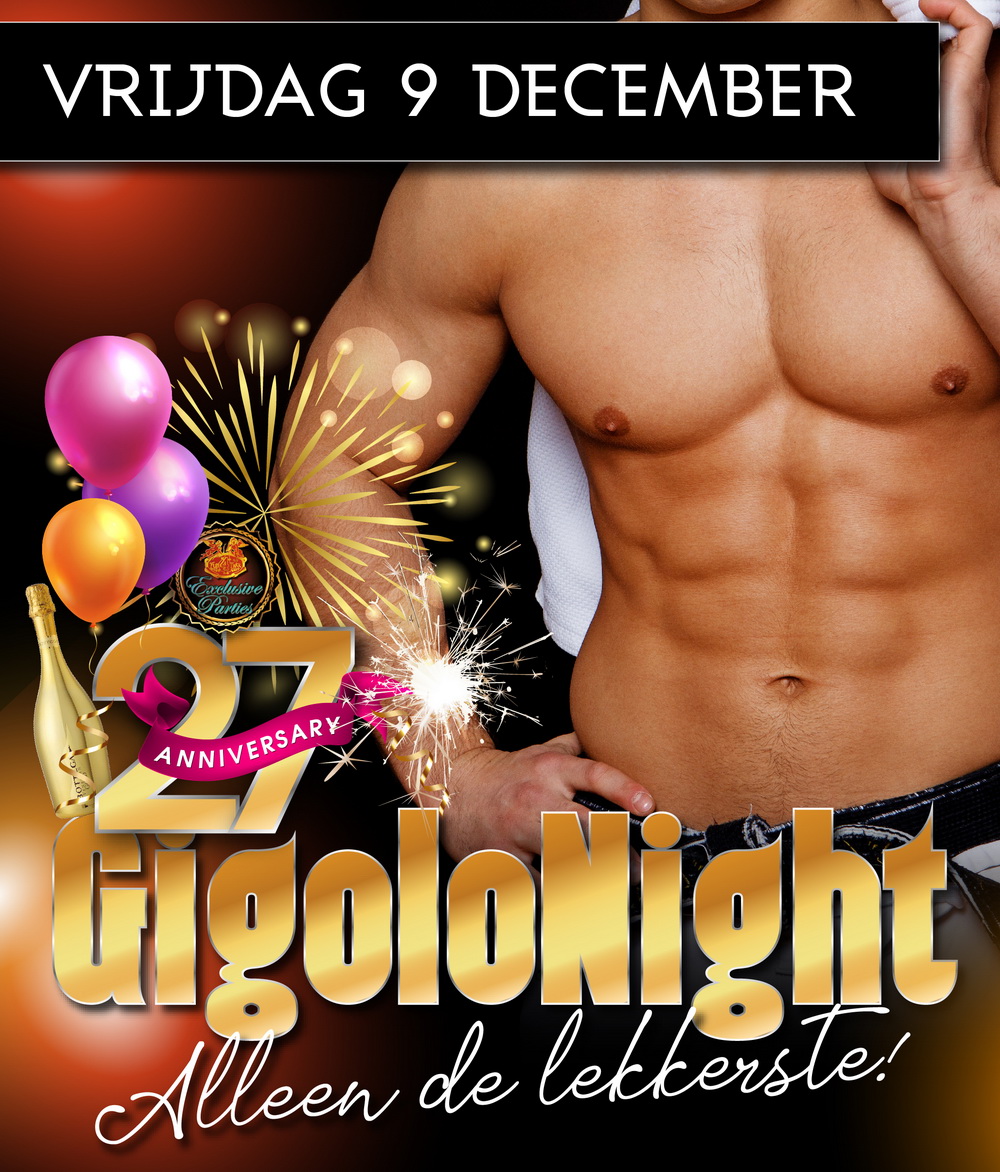 THE PARTY WEEKEND FROM 9, 10 & 11 DECEMBER '22
A PARTY menu in our restaurant!

FRIDAY 9 DECEMBER '22 | 21:00 - 03:00
This second Friday of the month it's... Gigolo Night!

The last GIGOLO NIGHT of 2022

GIGOLO NIGHT in Fun4Two has been moved up a week due to. HARDCORE NIGHT vs GIGOLINA'S.
It is the night for Single ladies, girlfriends, and couples. They all come to enjoy one or more gigolos.

So this theme is special for all ladies, shall we say. But of course many couples also enjoy our gigolos.
We have them in all sizes and colors. You can choose from ten to fifteen tasty stuffed boys.

Do you doubt? Not necessary, as usual a top evening, so just do it.

Not surprising that Fun's gigolo Friday is number one for many couples and single ladies?!
OUR HOUSE MASSEUR JAY, IS ALSO PRESENT TONIGHT, SO YOU CAN IF YOU WISH, HAVE YOU GOOD MASSAGE AGAIN!!!
OF COURSE NO EXTRA COSTS!!!


Ask for a strippenkaart… and save for a free entrance… done in no time!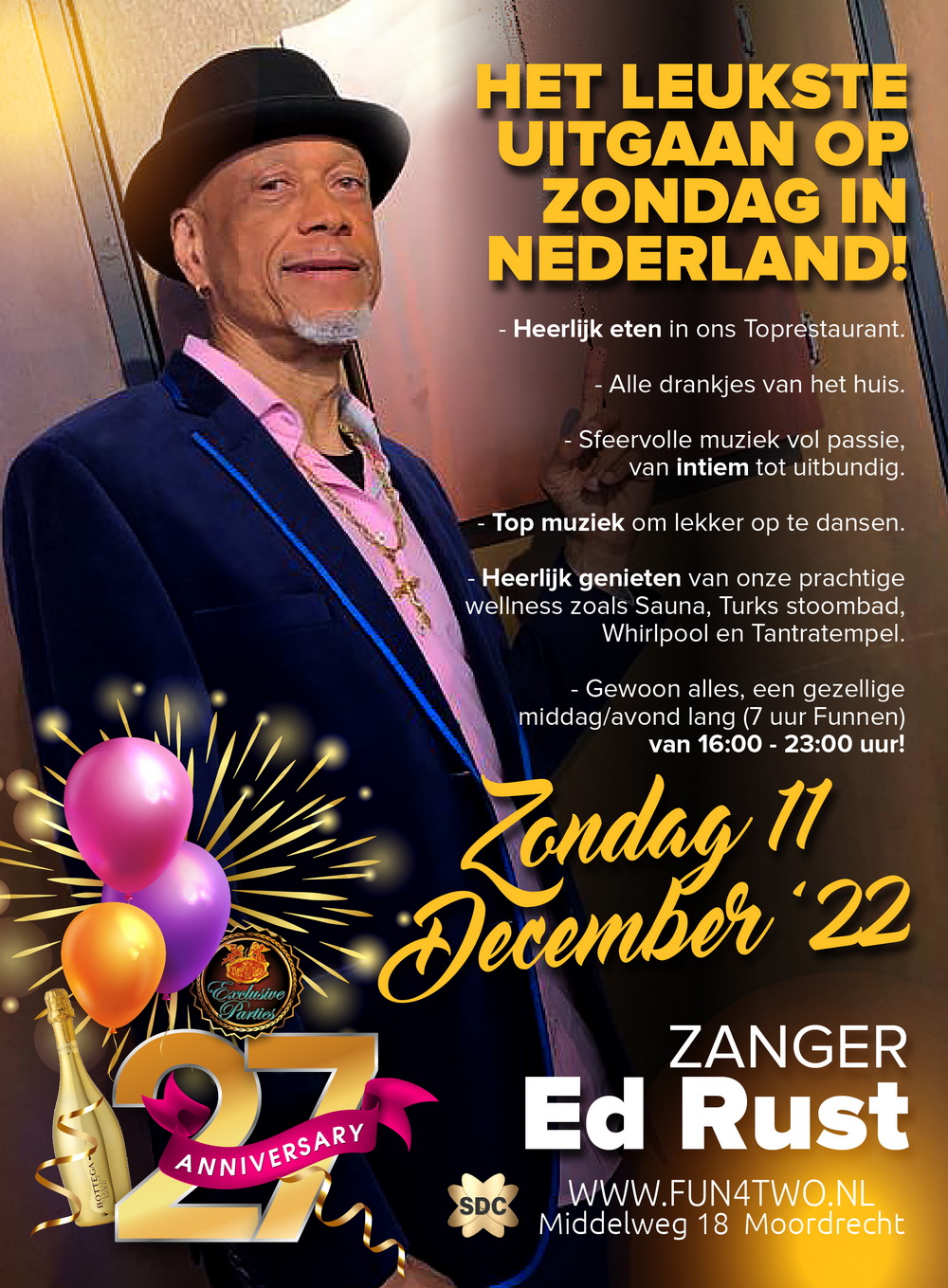 SUNDAY 11 DECEMBER '22 SWINGERS SUNDAY | 16:00 - 23:00
The Day After!!
Reminisce about the party weekend and all the beautiful things you can find in the club, for only € 95,- All-inclusive !
COULDN'T YOU BE THERE YESTERDAY? MAYBE NEXT YEAR, but make sure you are on time, because this party was sold out again.
On this closing we have booked Ed Rust for you again.
And what a party it was last time. People were crazy and very enthusiastic about this top singer. So now it will be another happening of your kind.
He participated in several talent contests, and also took first place. In 2021 he participated in The Voice Senior.
Swingers Sunday! You just can't get around it! Nowhere is it more fun to go out!!! All-Inclusive for only € 95 per couple.
A fantastic evening for couples aged 30 - 75! Because where in the Netherlands can you still experience a fantastic Sunday for only € 95 per couple, All-Inclusive! Enjoying the two of us, with of course delicious food in our restaurant, all the drinks on the house, nice people around you, dancing & dancing, relaxing, or enjoying our wonderful wellness! A tantra massage temple and the many erotic spaces where you can have wonderful sex with your partner or with others. SWINGERS SUNDAY in Fun4Two guarantees a top night out for a price that makes you say uh.
01) Fixed entrance fee of €95 per couple All-inclusive
02) No registration fee of 20 euros for new members
03) A fun swingers evening for like-minded people
04) Dress code lingerie at 19:00
05) 100% sex guarantee in the club
06) Unlimited food in our Top restaurant
07) All the drinks on the house
08) Top music from our DJ
09) Enjoy our beautiful wellness such as Sauna - Turkish bath - Whirlpool Tantra Temple
10) On the last Sunday afternoon / evening of the month you can also enjoy our house singer Desiree.
11) Just everything, all night long (7 hours Funnen) 4:00 PM - 11:00 PM.
*Note! Not valid on public holidays, pool parties & garden parties!

DO YOU ALREADY HAVE A FULL SAVINGCARD?