Fun4Two Weekend Program of this Week!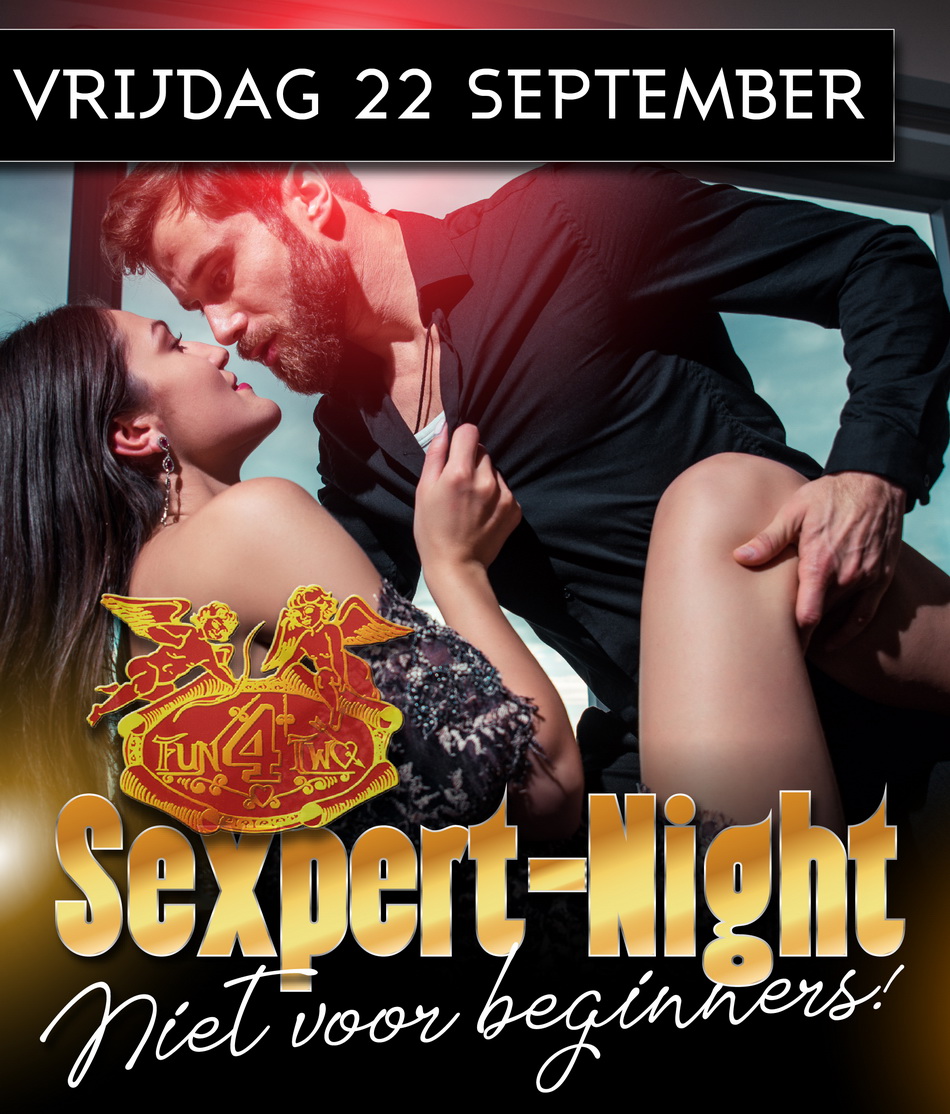 THE WEEKEND OF 22, 23 & 24 SEPTEMBER '23
Dish of the Chef, an AUTUMN menu!

Every fourth Friday of the month it's... (S)Expert Night!
FRIDAY 22 SEPTEMBER '23 | 21:00 - 03:00
Access for Couples, Single Ladies & Girlfriends.

(S)expert Night can best be described after our Hardcore Night as a milder form but still a super horny evening or just porn for the real doers among our guests.

Ladies immediately go into lingerie, sexy dresses, party clothing such as lacquer, leather, etc. is not allowed on this evening!The gentlemen wear a nice boxer and we advise to wear flip flops.

Wearing a shirt is not allowed.

Our DJ who plays nice sultry, horny pictures. A dance floor full of shuffling people, lots of moaning and groaning, lots of kissing and licking and lots of sucking.

In short, an exceptionally horny evening! If you want to relax in between, you can do so super-de-luxe in, for example, Fun's sauna, whirlpool or Tantra temple .
Throughout the year you will receive a stamp on your saving card with every visit. Is that great! Hand in your card after 5,10 or 15 stamps, that's up to you and you can enter for free! Nice right... Ask for your saving card!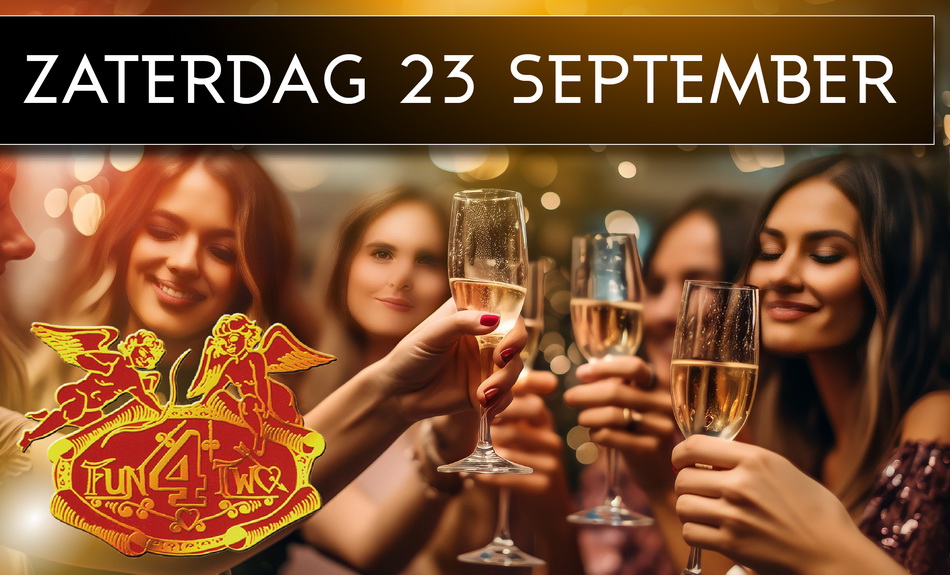 SATURDAY 23 SEPTEMBER '23 | 21:00 - 04:00
Access for Couples, Single Ladies & Girlfriends.

An ordinary Saturday in the Fun briefly summarized:
01) Bommetje full
02) Nice and beautiful people from all countries
03) Quick contact with other nice couples
04) Nice & drink.
05) Teasing & pleasing
06) 100% sex
07) The very best music
08) Guaranteed a TOP evening
09) Relaxing in the beautiful wellness
And now we'll stop for a while.... see you Saturday! Oh yes.... reservation? Seems very sensible to us!!!

Free entrance of your choice? Yes completely free... Of course only in Fun4Two...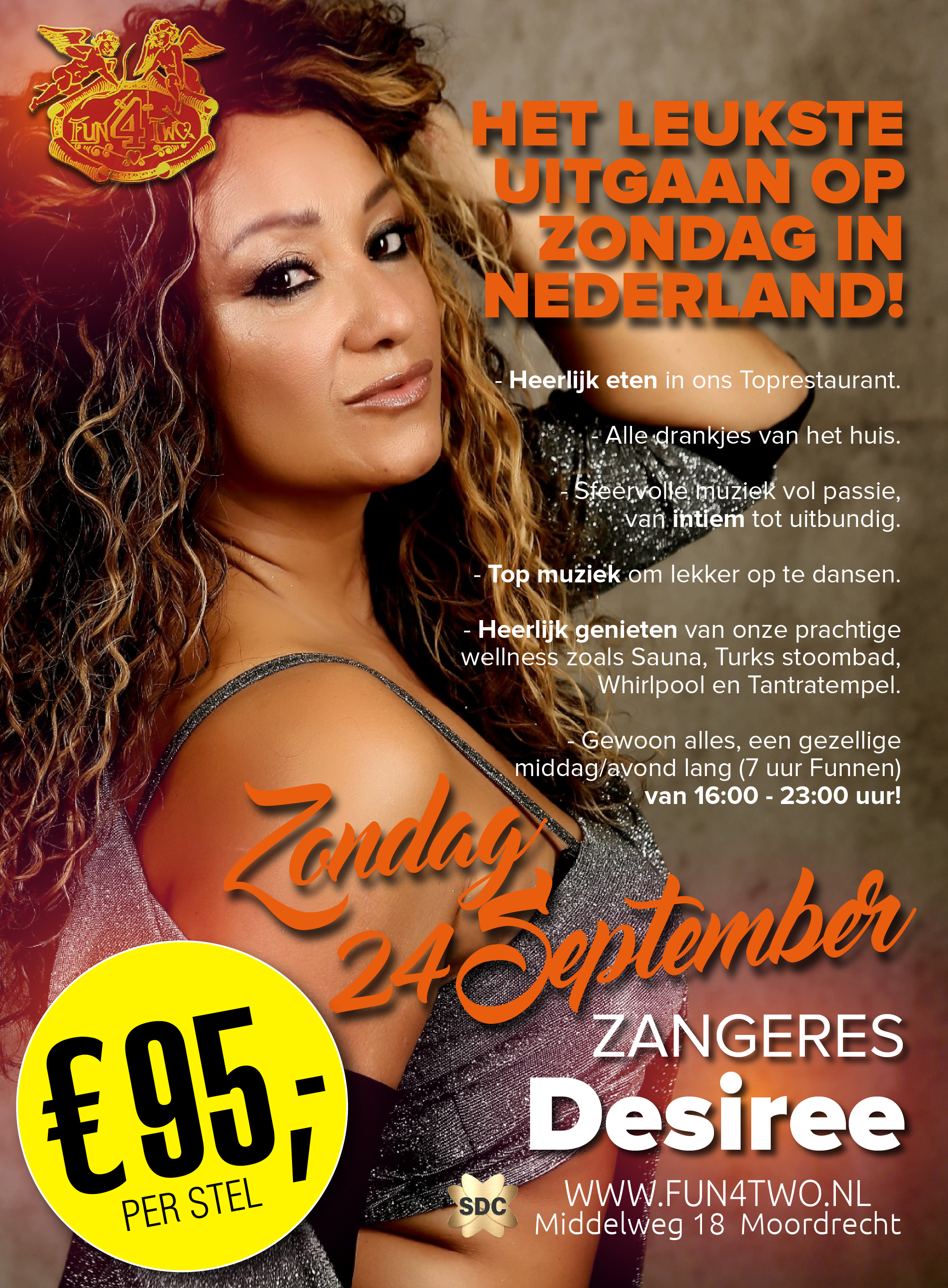 SUNDAY 24 SEPTEMBER '23 SWINGERS SUNDAY | 16:00 - 23:00
Access for Couples & Single Ladies.

Swingers Sunday in the nicest club in the Netherlands!!!
All inclusive! With Singer Desiree.
A fantastic evening for couples aged 30 - 75! Because where in the Netherlands can you still enjoy a fantastic Sunday! It's also the last Sunday of the month, so another spectacular performance by our house singer DESIREE who will definitely get you on the dance floor. Enjoying with the two of youwith of course about delicious food in our restaurant, all the drinks on the house, nice people around you, dancing & dancing, relaxing, or enjoying our wonderful wellness! A Tantra massage temple and the many erotic spaces where you can have wonderful sex with your partner or with others. SWINGERS SUNDAY in Fun4Two guarantees a top night out for a price that makes you say uh.
For our new members immediately upon arrival a discount of € 20, -
Of course in the nicest "most beautiful" and coziest Swingers club in the Netherlands Fun4Two!
It's just a fact that you won't have such a good time anywhere on a Sunday in the Netherlands. And then also for a bargain price.

01) Fixed entrance price of € 95 per couple All inclusive.
02) No registration fee of 20 euros for new members.
03) A fun swingers evening for like-minded people.
04) Dress code lingerie at 7:00 PM.
05) Nice teasing & pleasing
06) Unlimited food in our Top restaurant.
07) All the drinks on the house.
08) Top music from our DJ .
09) Enjoy our beautiful wellness such as Sauna - Turkish steam bath - Whirlpool Tantra temple and much more...
10) On the last Sunday afternoon / evening of the month you can also enjoy our house singer Desiree.
11) Just anything, all night long(7 hours Funnen) 4:00 pm - 11:00 pm. Oh yes... You read it right... per couple!! *

*Attention! Not valid on public holidays, pool parties & garden parties!
Who wouldn't want to go to the nicest club in the Netherlands for free? Yes completely free.... You just have to save….